Children (Newborn to Grade 6)
Last Updated on November 1, 2022
We have a growing desire to see the hearts of this next generation ignited with passion. We want your children to know they have been created with a purpose and unique gifting from God. We want to see your kids go out and change this world for Christ. We want to equip you as the parent and partner with you to influence your child. This is done in a nurturing safe environment from ages newborn-12.
Check out Kids on Church Center
Sundays
Childcare
Nursery is available during morning service beginning at 9:45am. There's also a comfortable space for nursing moms here with a livestream of the service, too! We also have toddler, preschool and kindergarten programs!
Kid's Church
Kindergarten to Grade 6 will be dismissed for Kids Church during the service after worship. Our infant nursery, toddler and preschool rooms are available for your children at 9:45am. Please check-in your kids upon arrival but keep them with you until they're dismissed after the music.
If you're a new family, welcome! All new family registrations will happen at the Family Check-in Station in the foyer. Read more about our church if you're new. Kids in Grades 1-6 will head downstairs for a time of group songs and lessons. Midway through the morning, kids will transition to the third floor of Glad Tidings Church for small group time where they continue to learn and connect with peers their age. Dismissal and child pickup takes place on the third floor at your child's classroom.
Check-in
When you check-in your kids for our Sunday programs, you'll get a printed name tag for them as well as an identification sticker. Please keep this number handy, as you'll need to show it upon child pickup.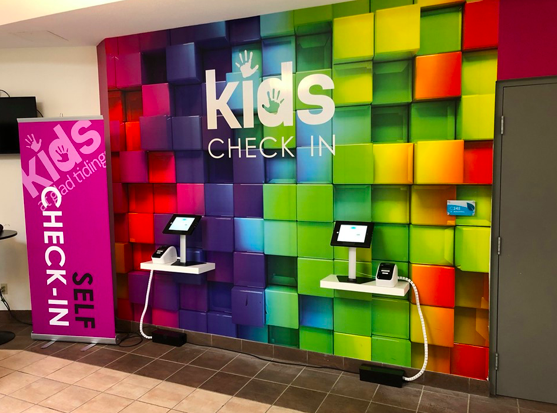 Playgroup
Come play with us! Drop in with your toddler (babies are welcome!) weekly on Wednesdays from 10am-noon. Please join the group for more information.
Join Playgroup